May 25, 2021
UPDATE: We are saddened to announce that our app Questions2Learn is no longer for sale on the app store. We were informed that we would have to do another costly update to keep it for sale on the app store. If you already purchased Questions2Learn, you should be able to continue to use it. Thank you for all of your support over the last nine years.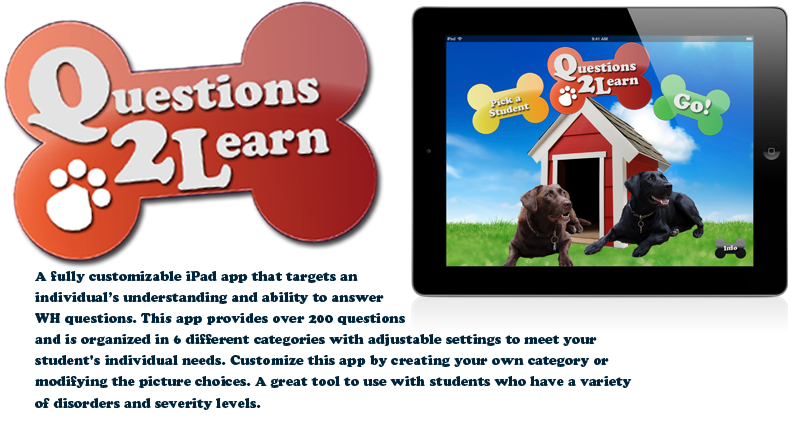 Questions2Learn in action
Meet the Speech Pups!
Leanne's companions, Moca and Dakota inspired her to start the company Speech Pups LLC and design applications for mobile technology. It all started when they were pet therapy dogs working with children and adults in schools, nursing homes, and hospital settings.  Moca and Dakota motivated children in schools to read aloud. They love listening to stories. It was extremely rewarding to see students stand in line to take turns reading to them. Another rewarding part of pet therapy was seeing the patients in nursing homes and hospitals, light up when Moca or Dakota trotted into their room. The patients easily opened up to Leanne and shared stories about their own pets. Seeing them smile and interact made volunteering a rewarding and fun experience. Another reason they inspired her to start the company is when she takes Moca and Dakota on walks. People, especially children, always want to meet them or talk to them. They aren't really interested in Leanne, they just want to look at the dogs and try to pet them.
Update:  Unfortunately our beloved Moca passed away in December of 2012. She lived a long and happy life. We miss her terribly. Dakota turned 12 years old in December 2017 and has had a couple of surgeries to remove tumors. She is doing well now (April 2018). May 2018:  Our beautiful black lab Dakota crossed the rainbow bridge after being diagnosed with cancer. She will forever be in our memories and hearts.